We're sure you've heard of the many benefits of an inspection and maintenance for your HVAC system. And just as a car requires maintenance, so does your air conditioner. Especially in the relentlessly long warmer months in Arizona, our systems are running nonstop! The consistent work your HVAC system has to perform to keep you comfortable can take a toll on parts and the life span of your unit.
Yet, have you considered how a HVAC inspection could catch fire hazards and stop a disaster before it starts? According to the National Fire Protection Association in 2006-2010 the U.S. fire departments responded to an estimated average of 7,200 home structure fires per year that involved air conditioning, fans or related equipment. Although fire's from HVAC systems are not common, they do occur. As a HVAC specialist, we feel it is our obligation to outline the factors that are a fire hazard to protect you and your family.
The most common factor for fires from HVAC systems is faulty wires and poor electrical connections. Overtime connections can become loose, frayed, disconnected or burnt, especially as our AC units use nonstop power during the summer. This can lead to exposed wires that can trigger a fire. During our HVAC inspections, we care for the electrical function of your AC system by examining wires for rust and corrosion. We tighten any loose electrical connections to eliminate any electrical shortages and check that the electronic ignition is working optimally. Faulty wiring doesn't just happen overtime. It is crucial that a HVAC system is only installed by a HVAC contactor to ensure proper wiring and sizing of the unit from the very start!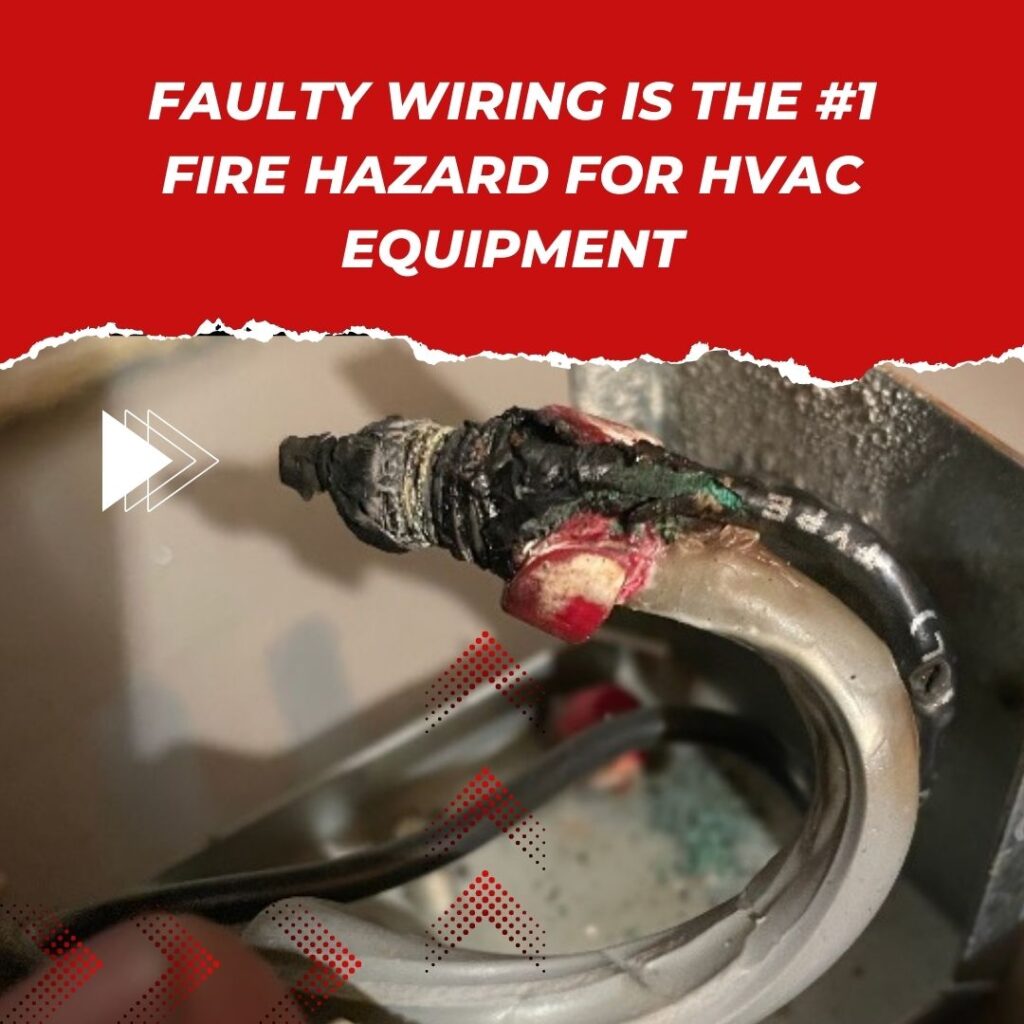 Another factor is a leak in the fuel line. Petroleum, gas and oil are highly flammable and when these substances come in contact with the hot elements inside of a furnace through a leak in a fuel line, a fire can occur. Rest assured during our HVAC inspections we examine and test for gas and carbon monoxide leaks. We inspect fuel line connections and tighten any connections that may have come loose over time. In addition, we test the gas pressure to confirm the correct amount of fuel is reaching the burners.
Last, crowding belongings, landscaping or flammables near your HVAC system could become a fire hazard. In the event of a faulty part, the system could overheat and ignite any material or flammable nearby. After storms, check the area near your outdoor unit to ensure it is clear from fallen branches, leaves, or any other similar debris.
Ultimately, there are many benefits to a HVAC inspection including a prolonged life span of your HVAC equipment and catching small wear and tears before it becomes worse but nothing beats the peace of mind from a licensed HVAC specialist catching problems before they can cause potential costly damage. The unfortunate fact is lack of maintenance is a fire hazard. To schedule an inspection call 480-653-1877. We recommend biannual inspection and tune-ups and we offer maintenance policy plans for only $118 a year. No need to remember to schedule, as we call you twice a year. After all, HVAC inspections not only protect your equipment but your home.