Most summer days in Arizona are above 100 degrees. If your HVAC in Phoenix has broken or needs repairs, you'll be in trouble. Don't be caught in the heat, call our Phoenix AZ HVAC contractor at Better Living Cooling and Heating. To make sure your AC is fully functional, your AC systems should be cleaned and checked at least once a year. Annual repairs and services will prolong the life and reliability of the unit.
Our Phoenix AZ HVAC contractors will check the coolant lines and make sure the water is collected from the condenser flowing into the drain line. We can monitor and document the temperature outputs. This can give us a baseline for your system's efficiency. It makes it easy to detect problems in the system. We can clean the unit; doing this will help the system work better. Call us to get your AC unit cleaned and evaluated.
Fast and Effective AC Service and Repair in Phoenix
You can count on quick and reliable HVAC repair in Phoenix Az when you unexpectedly face air conditioning problems in your hot Arizona home. Better Living Cooling and Heating provides prompt seasonal tune-up and services that examines the reliability of your system before stepping into the long summer days. We deliver a complete examination of the condition and functioning of an existing air-conditioning system.
Our team of trained technicians are able to restore any HVAC repair in Phoenix within 24 hours. We have serviced, installed, and restored air conditioners for homes in the Phoenix area for years. Don't hesitate to call anytime you're in need of HVAC services.
Trustworthy HVAC Repair in Phoenix Az
We have been serving in Phoenix for many years until now and have successfully executed thousands of air conditioning installations and a plethora of service calls. We are used to working under pressure and can handle even the largest jobs with quality performance. Our experienced and trained Phoenix AZ HVAC contractors are why we guarantee that your air conditioning service, repair, or installation can be performed accurately the very first time!
Our friendly, well-trained technicians for air conditioning maintenance will install and repair all sorts of air conditioning systems. We are here to assure a proper diagnosis and care on your AC device with the latest tools and equipment. In case of any problem with your AC system of any brand or model, you can count on us to reach you immediately to do a fantastic job at a reasonable price.
Contact Better Living Cooling and Heating for a fair price and quality air conditioning fix. We have served as Arizona's number 1 HVAC repair service in Phoenix for years. We stand out with a 100% satisfaction guarantee of work on all AC repairs.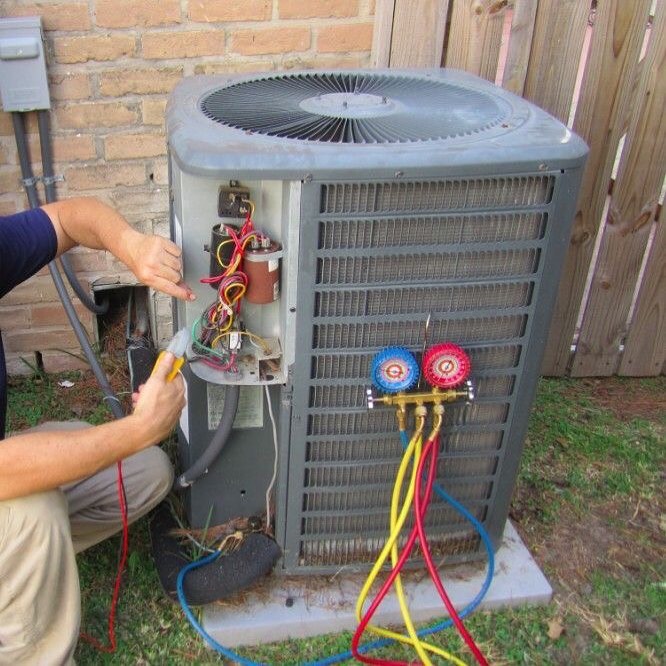 Air conditioning Maintenance in Phoenix
Don't wait for the problems to escalate to a more expensive solution. With the summer days in Arizona, you always need a functioning AC! Better Cooling and Heating can help deter expensive system breakdowns from happening. We also developed our own AC tuning checklist to ensure your machine performs at its optimum level. While also preventing costly repairs.
Installation and Replacement of Air Conditions
In the Phoenix valley homes, we use all brands and styles of air conditioning products. Our long-term ties with suppliers allow us to deliver the very best brands. Our experience in the industry ensures we provide you with the most cost-effective AC installation.
Why choose the service of Better Living Cooling and Heating
As the leading company in cooling and heating services, repair, and troubleshooting in Phoenix Arizona, you can count on our professional service. We ensure our Phoenix heating and air services are excellent. We even have product and service warranties to guarantee it.
Our mission is to keep you comfortable all throughout the year, no matter the weather. We provide superior service and focus on you and your home's needs. We understand that air conditioning is a necessity and find passion in providing relief from the heat fast! You can expect an honest, professional, and personable experience when working with Better Living Cooling and Heating.
Contact us today at 480- 653-1877 for a cost-free quote!