Heat Pump Repair and Replacement
Living in Arizona is nearly impossible without an Air Conditioning system. We've grown accustomed to having our homes be a comfortable temperature. However, as energy and gas costs continue to rise, many homeowners have to choose to live with uncomfortable temperatures in order to save money on their monthly utilities. If this is the case with you, you'll want to learn more about Heat Pumps.
Heat pumps are a great alternative to traditional AC units and heaters, as they are able to both cool and heat your home. A heat pump also uses much less electricity, and thus gives you a much cheaper monthly utility bill. Although the upfront cost of installation is usually higher, the long term savings pay for itself in no time.
Heat pumps are extremely effective at cooling your home, they can be more expensive than a furnace if the temperatures drop super low. However in Arizona, heat pumps are a very effective choice for both cooling and heating, as the temperature rarely drops low enough to warrant a furnace. 
Bartels Cooling and Heating offers energy-efficient and highly effective heat pumps. We have been professionally installing, maintaining, and repairing heat pumps for years. You won't miss out on quality because we have the highest rated brands at affordable prices! If you are interested in learning more about the pros and cons of Heat pumps vs traditional Ac systems, give us a call, and we'll be happy to give you a free consultation.  
Heat pumps are great for:
Homes with high energy bills

Homes that need both a furnace and Ac unit.

 

Areas with mild winters
Other benefits of Heat Pumps:
 

Heat pumps are quieter than other heating systems

 

Heat pumps are safer than combustion heaters (Gas)

 

Improved air quality and humidity control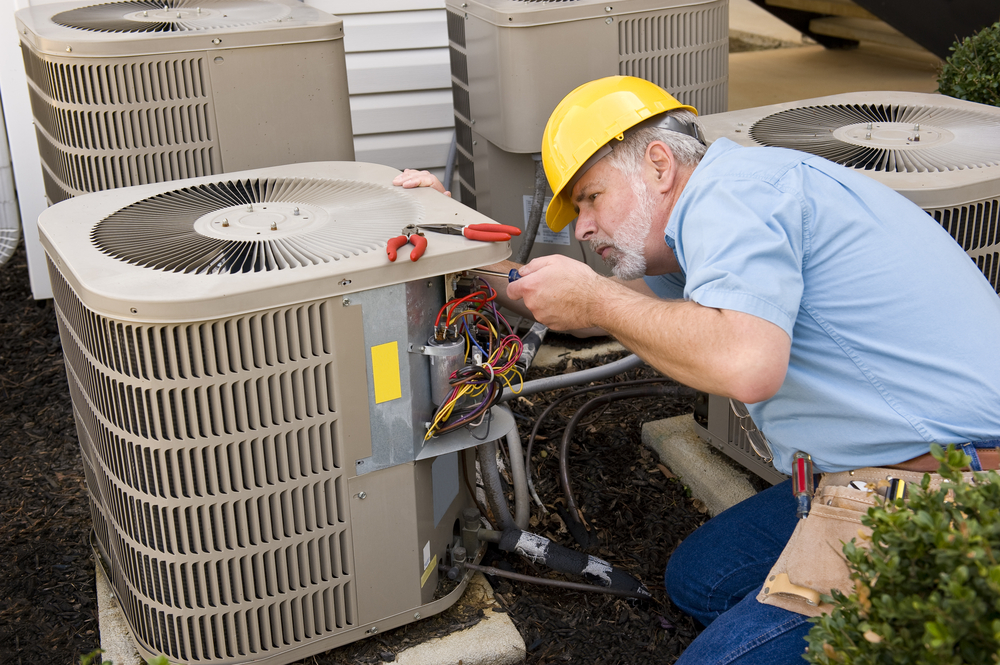 Save money with a Heat Pump
There are two main options for AC in Arizona, traditional Central HVAC systems paired with a separate Heating system, or a single Heat Pump. Although furnaces remain the default option, many households and businesses have opted to upgrade their furnace for a powerful, environmentally friendly Heat Pump system – which often acts as the central air conditioner and heater for a double operation.
A heat pump is a system that pumps or extracts heat from the air outside your home then heats up the air by compressing a liquid or gas coolant. The air is then blown over the heated coolant and circulates inside the house. 
Less electricity is used with a heat pump, because it doesn't require electricity to heat up, it pulls the heat naturally out of the air. Moreover, during the summers, the cycle is reversed, and the unit works as an air conditioner.
Efficient Heat Pump Repair and Replacement in Phoenix
Although heating pumps are one of your home's most reliable and cost-effective heating options, normal wear and tear will lead to machine breakdown and failures over the course of time. While certain issues can sound like minor annoyances, they may also signify severe underlying problems. It is often safer to get support from a qualified specialist if you find any complications with your heat pump before they grow into significant problems involving complete heat pump repair.
Our trained and specialized team provides detailed diagnosis and repair, and if the system gets worn out, our team will provide an honest and reliable replacement. Our experts will look into the following sings to check if your heat pumps need a repair:
Age: A heat pump that has been working for more than a decade will not work as it did before. If there have not been any replacements in some time, you may need some repairs.
Loud Sounds: If we detect strange, loud, rattling noises, it can be an indication that your heat pump needs serious repairs. Our professional workers will fix it out.
Inefficiency: If your heat pump is not sufficiently heating your home, our contractors will diagnose the issue and fix it on the spot.
Rapid cycling: Malfunctioning thermostat or dirt may restrict airflow and cause the heat pump to shut on and off frequently. Our professionals will resolve the issue and make your heat pump working again.
Heat Pump Repair and Replacement Pro
As with every other heating device, it is crucial that you reach out to a specialist and make sure the team is diligent in fixing the issue quickly, no matter how minor or small it might be. In other words, heat pumps are sometimes used in combination with other devices for heating and cooling, and it can often be tough to decide precisely where the problem resides. Under these cases, one of our local air conditioners and heating professionals will come out to test the heat pump carefully to see just where the problem lies. Once our team of experts has established the problem, they will fix it up so that you and your family benefit from the safety and comfort of your home.
 Call us at 480- 653-1877 for a cost-free quote!
Why choose the service of Better Living Cooling and Heating
As the leading company in cooling and heating services, repair, and troubleshooting in Phoenix Arizona, you can count on our professional service. We ensure our Phoenix heating and air services are excellent. We even have product and service warranties to guarantee it.
Our mission is to keep you comfortable all throughout the year, no matter the weather. We provide superior service and focus on you and your home's needs. We understand that air conditioning is a necessity and find passion in providing relief from the heat fast! You can expect an honest, professional, and personable experience when working with Better Living Cooling and Heating.
Contact us today at 480- 653-1877 for a cost-free quote!