Heating and Furnace Repair
You only want to trust the best AZ heating and air contractors for your home's heating & furnace repair. Luckily, you're in the right place for professional, cost-effective repairs and replacements. We specialize in Heating and Furnace Replacement and Installations in Phoenix, AZ.
We can help you spot the signs of a furnace malfunction and guide you through the repair or replacement process.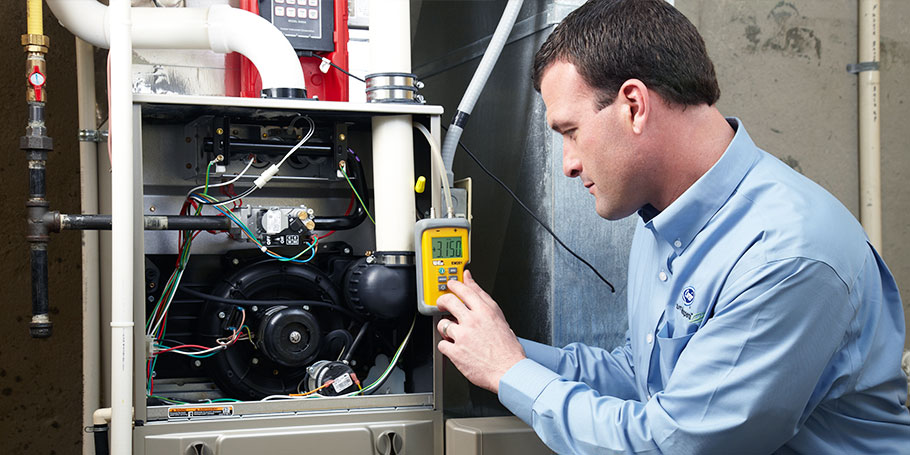 Causes for Furnace Failures
Broken Thermostat – Furnace thermometers can break or become decalibrated over time. This can make your furnace's function lag or become ineffective.
Dirty or Clogged Filters – Filters gather dirt. It can become clogged over time, leading to issues with the whole system. If the air filters get too obstructed, it can infringe on your furnace's job to warm your home. This stress on the system can age your furnace. Checking your filters regularly can prevent this.
Ignition Failure – An igniter is an essential component of the heater as its function is to light the fuel that warms your home. If this part isn't working, the fuel won't ignite, and it won't heat your home. Typically there is an approach to check if your pilot light is operational. It's good practice to have it looked at yearly through specialized Phoenix heating repair services.
Blower Motor Fails – The blower motor is what keeps the air moving throughout your home. In case it fails, the hot air won't spread around your home.
Fuel Supply Issues – Most furnaces in Phoenix Az, are either electric or fueled by gaseous petrol. The most common problem with electrical heaters is poor wiring. Poor wiring will cause the furnace to blow a breaker. Call a furnace and heating repair Phoenix specialist to ensure your furnace is wired up correctly. With flammable gas, if you notice that there is an issue with your gas line or the fuel going to your furnace, it is suggested you contact Better Living Cooling and Heating quickly because gaseous petrol can be dangerous.
Risks when Ignoring Furnace Repairs
 

Carbon Monoxide Poisoning

 

Poor Air Quality

 

House Fire

 

Shorter HVAC Lifespan

 

Higher Energy Bills and Wasted Energy
Save money with a Heat Pump
There are two main options for AC in Arizona, traditional Central HVAC systems paired with a separate Heating system, or a single Heat Pump. Although furnaces remain the default option, many households and businesses have opted to upgrade their furnace for a powerful, environmentally friendly Heat Pump system – which often acts as the central air conditioner and heater for a double operation.
Why choose the service of Better Living Cooling and Heating
As the leading company in cooling and heating services, repair, and troubleshooting in Phoenix Arizona, you can count on our professional service. We ensure our Phoenix heating and air services are excellent. We even have product and service warranties to guarantee it.
Our mission is to keep you comfortable all throughout the year, no matter the weather. We provide superior service and focus on you and your home's needs. We understand that air conditioning is a necessity and find passion in providing relief from the heat fast! You can expect an honest, professional, and personable experience when working with Better Living Cooling and Heating.
Contact us today at 480- 653-1877 for a cost-free quote!