AC Replacement and Installation
In Arizona, an efficient air conditioning system can be a lifesaver. No one wants to get caught in the blazing Arizona summers without a quality AC unit. If you find yourself fanning yourself from the heat, or fixing your AC every other week; it might be time to upgrade to a new, modern, environmentally friendly Phoenix heating and air system. With our competitive pricing, there is no reason to stay in the heat. We even guide you through the process and can work with your budget.
For the most part, we advise an air conditioner repair before replacement. Be that as it may, in specific circumstances, a replacement may be more cost-effective. If we find major problems, we may suggest a replacement.
There are some factors to consider while deciding to replace or repair your AC unit. Our HVAC contractors in Phoenix will help diagnose the issues, but these are some warning signs to look out for.
Signs that your AC system needs replacement:
Air Conditioners are intended to run successfully for a long time. Yearly kept up AC units can last as long as 15 years.
Notice your AC system requiring regular repairs? Instead of paying the expense of a few visits during the year, replace it!
If your unit is making a sharp screeching sound there could be a significant problem. You may want to consider getting a professional to take a look.
If your cooling bill has jumped up 20% or more, that could mean your HVAC system is working ineffectively and putting more stress on the system leading to a higher bill.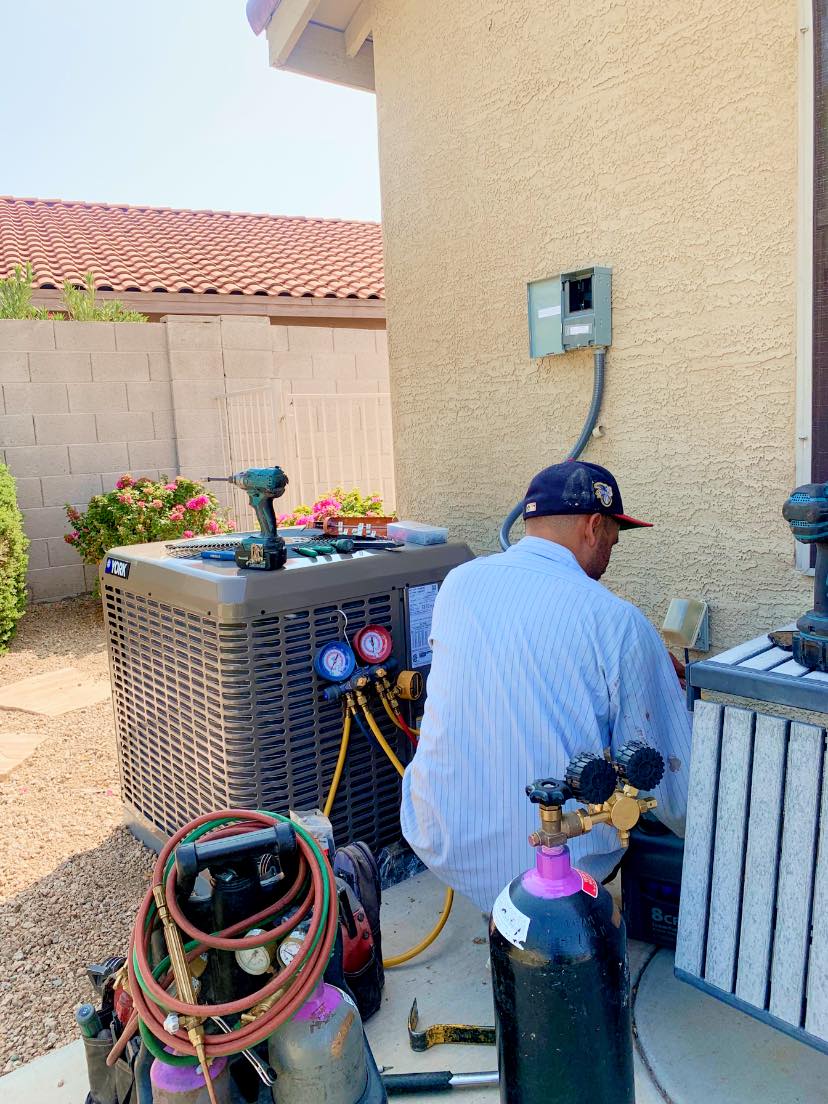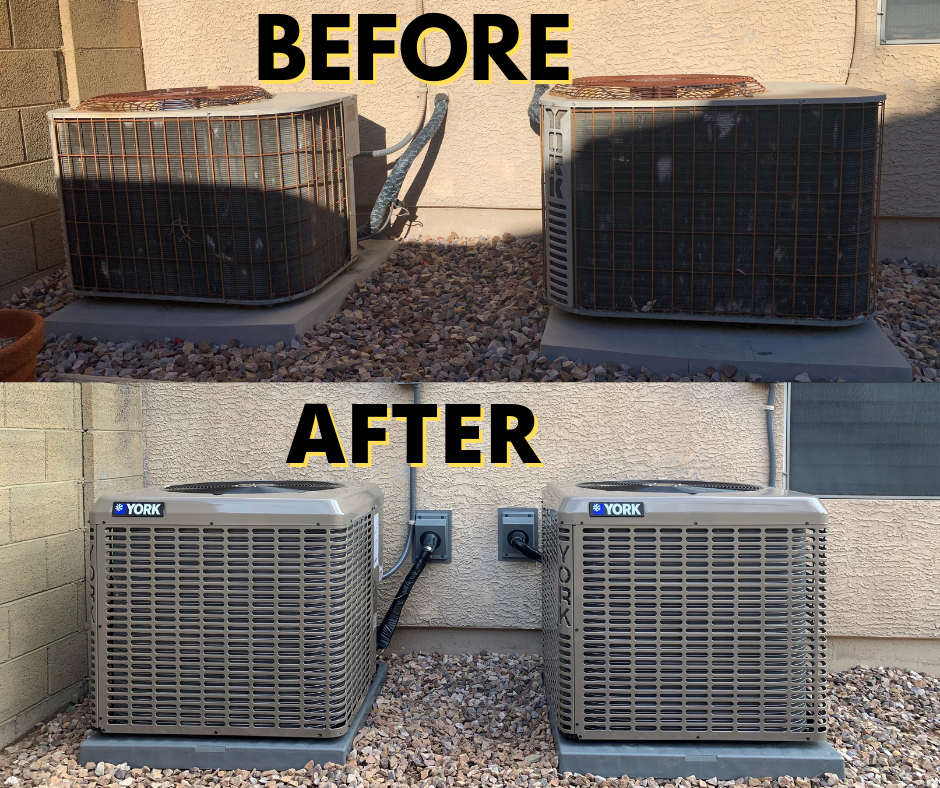 Advantages of installing a new AC:
 

Saves Energy

– Air conditioners can accompany high seasonal expenses. Different tests have shown that new air conditioners wind save property owners hundreds of dollars a year on their electric bill, by installing a more efficient AC system.
 

More Comfortable

– Your new air conditioner can more easily maintain a comfortable temperature.
 

Modern ACs are environment-friendly

– The moment that you introduce a new air conditioner, you'll be utilizing less energy. These are more effective and more environmentally friendly products.
Dangers of DIY AC Installations
 

Electric shocks

– Amateurs should not attempt to change your AC system without proper training or. It can result in dangerous electric shocks. Leave it to the professionals.
 

Presence of harmful gases and synthetic compounds

– You can come into contact with harmful gases such as carbon monoxide and other dangerous substances. Direct contact with carbon monoxide and Freon can be deadly. Likewise, on the grounds that Freon is scentless and dull, it generally cannot be sensed until you have been overexposed.
 

Incorrect Installation

-Besides the dangers of installing a system yourself, it is likely the system is set up incorrectly. Attempting to install an

HVAC Phoenix

system can lead to a costly accident that could damage your AC system or home if not installed correctly.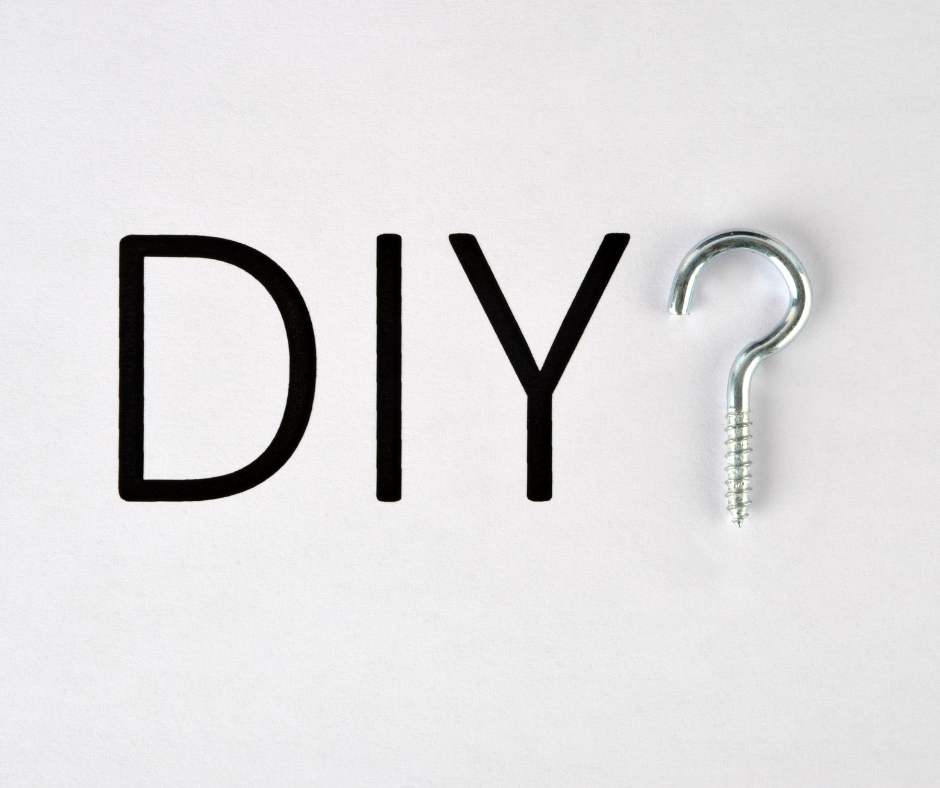 Why choose the service of Better Living Cooling and Heating
As the leading company in cooling and heating services, repair, and troubleshooting in Phoenix Arizona, you can count on our professional service. We ensure our Phoenix heating and air services are excellent. We even have product and service warranties to guarantee it.
Our mission is to keep you comfortable all throughout the year, no matter the weather. We provide superior service and focus on you and your home's needs. We understand that air conditioning is a necessity and find passion in providing relief from the heat fast! You can expect an honest, professional, and personable experience when working with Better Living Cooling and Heating.
Contact us today at 480- 653-1877 for a cost-free quote!